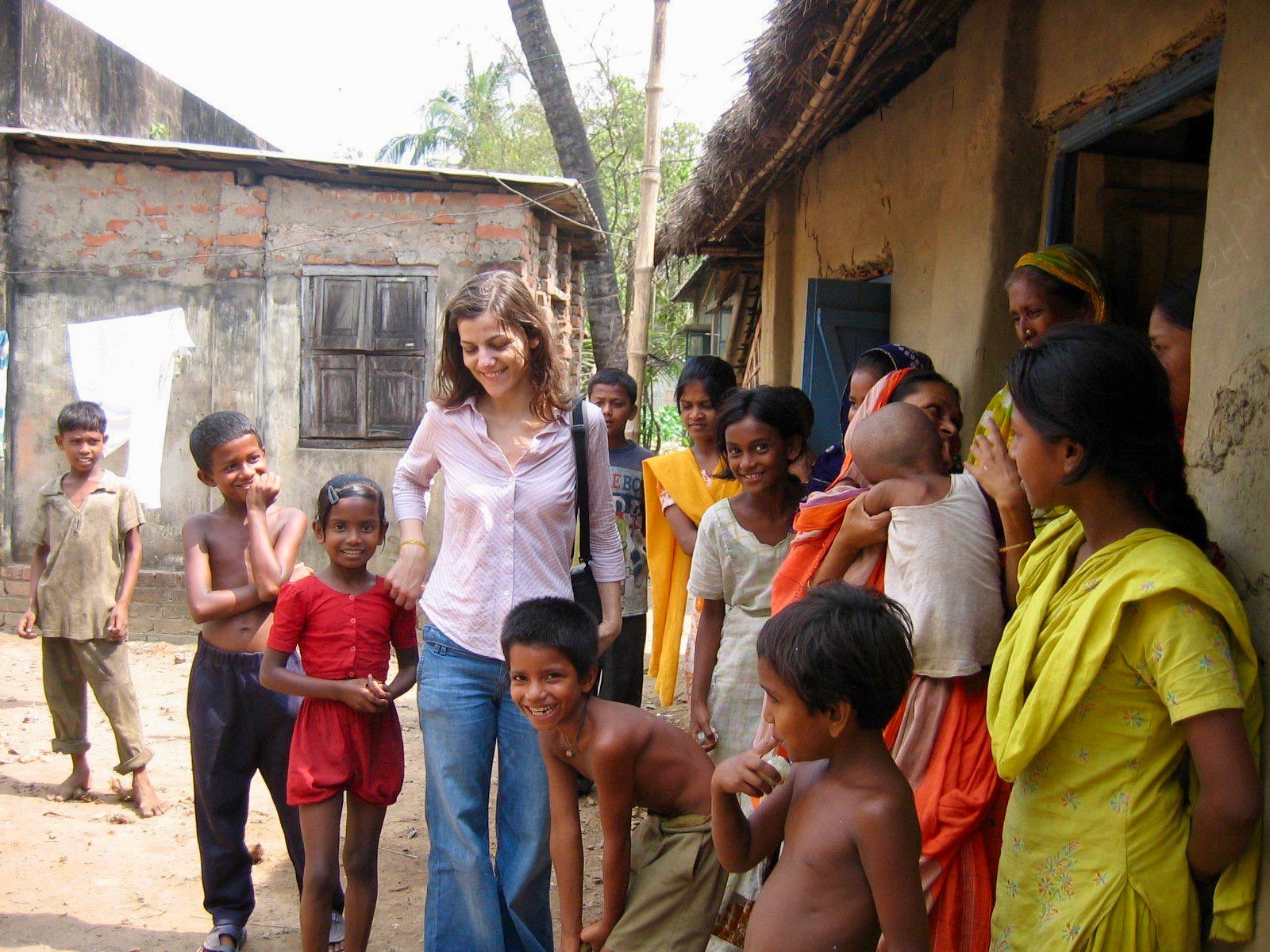 LINDSEY NEFESH-CLARKE - FOUNDER OF WOMEN'S WORLDWIDE WEB
Women's WorldWide Web (W4) is an online crowdfunding platform aiming to promote girls' and women's empowerment worldwide, in cities and in rural areas, in both developing and developed countries. As the founder of W4, Lindsey Nefesh-Clarke is entirely dedicated to this mission.
Lindsey, what was your journey before you founded Women's WorldWide Web (W4)?
Well, to give you some background, all my adult life I have been defending human rights and doing humanitarian work, but prior to Women's WorldWide Web I was not working in tech at all. It was in 2010, when I was working on the island of Cebu, in the center of the Philippines archipelago, that I was first struck by the power of ICTs (Information & Communication Technologies) to accelerate girls' and women's empowerment. I was managing a humanitarian program to provide education, healthcare and other services for children and families living in absolute poverty. These families were squatting in a cemetery, literally living among the tombstones, with no access to electricity, running water, or sanitation. My work focused on enabling girls and young women to attend school and college because, sadly, girls were the ones most often excluded from education. Although the girls and young women in our program were succeeding brilliantly in their studies, my team and I observed that they lacked the IT skills required to obtain formal employment. Needless to say, these girls had never had access to computers. So, we set up an IT vocational training center right there, next to the cemetery. Giving the girls and young women access to IT skills and qualifications, ranging from digital literacy to more advanced skills, proved a powerfully effective way to help them obtain safe, formal employment and access the increasing employment opportunities offered in the Philippines, notably in the country's growing IT-BPM sector.
What is the mission of Women's WorldWide Web?
Today, the majority of the more than 3.5 billion people who are digitally excluded, with no access to internet, are girls and women. So, we still have a lot of work to do to ensure girls' and women's digital inclusion and equality. If there has ever been a time when we have seen the importance of digital inclusion, it is now, during this pandemic. In the Philippines, we provided girls and women with educational opportunities, but we saw that tech skills are increasingly indispensable, both for daily life and for accessing safe, formal employment. The majority of jobs today require digital skills, and certainly the jobs of tomorrow will (it's estimated that almost 90% of future jobs will require basic IT skills). As soon as I became aware of this need, and this "global digital gender divide" and its harmful effects, I knew I needed to do something — and that was the origin of Women's WorldWide Web. I have always been inspired by the resilience and resourcefulness of the heroic people I've met around the world, many of them seemingly ordinary girls and women who end up capable of extraordinary achievements. What is wonderful is that girls and women, if you give them access to technologies and digital skills, are able to create their own solutions to some of the biggest challenges their local communities face. This immense potential is what drives us at W4 and makes us so passionate about what we do.
What are the upcoming projects for Women's WorldWide Web?
W4 was founded in 2012. It is still a relatively young organization but we have come quite a long way. Today, we are a partner of the UN coalition EQUALS, which promotes girls' and women's digital inclusion and equality. We're determined to contribute, as best as we can, to closing the global digital gender gap and to enabling girls and women to have access to technologies and tech skills.
How do you feel about winning a Simone Award?
Our team is thrilled about this award! I love its spirit and values. I've read Julie Carabello-Baum's interview about her inspiration for founding the awards several times: it resonates deeply with what we do at Women's WorldWide Web. In the interview, Julie Carabello-Baum eloquently highlights the dedication and commitment needed to start and grow impactful initiatives that can support other women and promote their empowerment. These values — of positive impact, dedication, and commitment to a meaningful cause — are clearly important to the Carabello-Baum family, and they are vitally important to us at W4. Julie speaks of "ordinary people doing extraordinary things." That phrase really struck me. Our work at Women's WorldWide Web is about promoting girls' and women's empowerment through technologies (Sustainable Development Goal 5b). We work to ensure girls' and women's digital inclusion, so they have access to technologies and tech skills. Access to digital technologies and skills is indispensable if one is to fully participate in our increasingly digitized societies and economies. Within the frame of W4's work, I have met so many seemingly ordinary girls and women around the world doing extraordinary things, and often in unimaginably challenging circumstances: girls and women from very marginalized, disadvantaged communities succeeding in their education and training, lifting their families out of poverty, contributing to the development of their communities, generating innovative solutions that harness tech to help their communities. It's incredibly inspiring to see how people, when given the opportunity (as the girls and women in our programs are), can create extraordinary positive change. So, I feel very honored, because I deeply admire the nature of this award and the approach of the Carabello-Baum family to their work in general. Julie also emphasizes that there are many people around the world doing great things and that the Simone Awards seek to shine a light on those people. It's heartening that this award is shining a light on initiatives like Women's WorldWide Web. By extension, the Simone Awards are shining a light on the extraordinary girls and women in W4's programs around the world.
How will this award contribute to Women's WorldWide Web's cause?
This award will contribute to two important programs. The first one is promoting women-led projects that harness technology to protect the environment and enable communities to adapt to climate change. The second is an exciting project that we are part of, in partnership with the UN coalition EQUALS, providing free IT skills training for girls and women around the world. I think these projects really chime with the award and its focus on positive social and environmental impact! I would like to add that the Simone Award is particularly special to our team thanks to the values that underly its origin and the work of Château de Pommard, which is about respecting the environment while developing the art of winemaking, and recognizes what hard work and dedication are required to cultivate the vineyards. The Simone Award conveys all this and the uplifting values of the Carabello-Baum family. Technology can be an enabler for so many things, and it is beautifully apt that, at Women's WorldWide Web, we are stepping up our focus on enabling girls and women, through technology, to play a key role in protecting the environment and creating initiatives to protect the planet and help communities to adapt to climate change. The Simone Award will contribute to this.