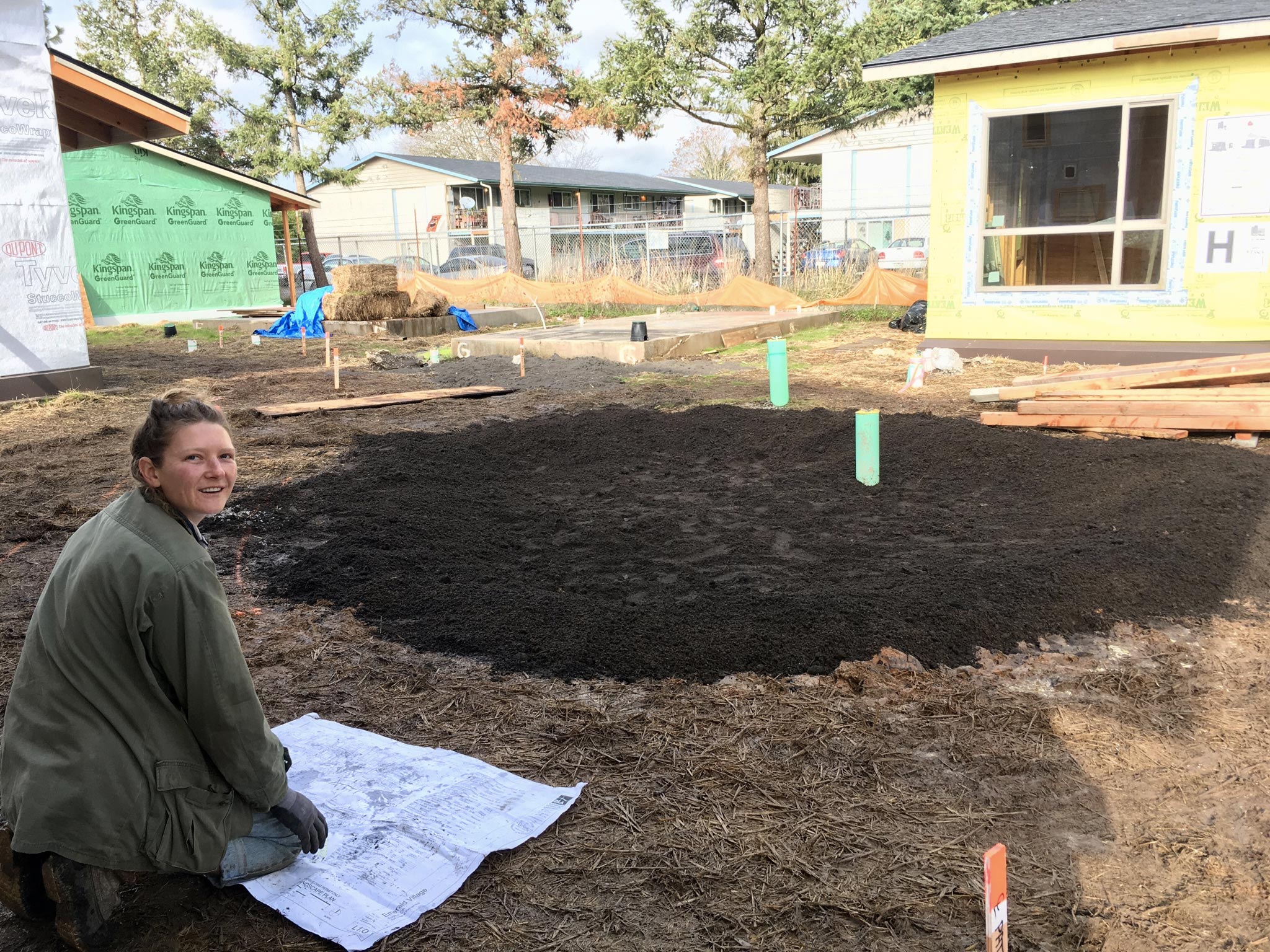 SHELBY MEYERS - EXECUTIVE DIRECTOR, LANDSCAPE FOR HUMANITY
Landscape For Humanity works with landscape as the fundamental framework for creating spatial changes that support social and environmental justice through design, research, and real-world projects. As Executive Director, Shelby works on the ground, with the communities to build these landscapes.
Shelby, can you tell us about your background?
Generally speaking, my work is also what I am really passionate about, which is building gardens and landscapes, while working directly with communities. I believe that gardens and plants can really heal people and bring people together. It has been amazing to witness that through the projects I have worked on in the past years. It's just such a fun and powerful tool for community building, which I think is getting more and more important these days.
How did you start your journey in community building?
I went to the University of Oregon in Eugene, where I studied Landscape Architecture and graduated in 2016. From there, I stayed within the community of Eugene as I wanted to get my hands dirty and work with the soil, as well as with the people. I was able to put to use everything I had been thinking about while at school. I was on the ground designing, installing and managing gardens, and started working with landscape contractors. I worked on my very first big project which was a pivotal moment: with three close girlfriends, we started a community market in town called The Whiteaker Community Market. It is in a very artistic neighborhood and we have a lot of craft vendors, food vendors and farmers there. We worked to have as much inclusiveness as possible, enabling members of the community to express themselves through activities like yoga and arts and crafts. We even had a stage for music! This project has been around for five years now and it is still really thriving, especially during the pandemic. It's such an essential resource! It taught me so much about the value of people having a space to be included in and to come together.
Why did you decide to create Landscape For Humanity?
Soon after, within the same neighborhood, I got involved with a housing cooperative called Emerald Village Eugene. This project was started by a non-profit called SquareOne Villages. It's a tiny house community with 22 tiny homes. I worked with a landscape contractor to build all the landscape around it including rain gardens, and contributed to fund and design a community urban agriculture area. Through the whole project, I was able to work on the ground with the residents. They helped me the whole time define the landscape. On my end, I was trying to facilitate them in taking the lead and ownership of their landscape. They helped me build the entire thing actually they did a lot of the labor. The last portion to be finished was just a few days before social distancing with COVID and that was the community agriculture area, where we built a greenhouse and planted a bunch of vegetable seeds. Through having the stay-at-home order, they were able to grow their fresh produce which fed the entire community. This was such a profound experience, working with people and building their own gardens. And that whole experience inspired a lot of the work for Landscape for Humanity, regarding designing and installing edible landscapes with and for vulnerable communities.
What is the mission of Landscape For Humanity?
We work with landscape to create spatial changes that support social and environmental justice. Landscape For Humanity was started as a collaboration between the work that I was doing at Emerald Village and a group of professors at the University of Oregon in the Landscape Architecture department. The professors began collaborating because they were researching and teaching about productive landscapes in terms of food, water and energy, with a focus on providing these resources to under-resourced communities. To make a project like this happen, you have to be on the ground with the communities, and that's where I came in. This collaboration enables the benefit of working with a brilliant, connected research team to most thoughtfully design and collaborate with the community on the ground.
How many projects are you working on through Landscape For Humanity?
Currently, we are working on three projects. In addition to the Emerald Village which I mentioned, we are working on a project at Opportunity Village in Eugene as well. While the Emerald Village provides permanent housing, the Opportunity Village focuses on transitional housing with less infrastructure. It is for a population that is only there for a short period of time. Within that village we are building greywater filtration and smart irrigation systems to improve quality of life. Currently the site does not have that much vegetation, so we are also creating gardens while simultaneously cleaning the water. The third project is in Lima, Peru. It is similar to the second project with the development of bio-filtration in order to create a sustainable sanitation system. In all three of these projects the goal is to design and build with and for the community. With the social focus at the foundation, the projects are much more resilient and equitable.
What is your vision for the future of Landscape For Humanity?
I see Landscape For Humanity as a resource for landscape designers who want to do projects with communities, even if these are difficult projects to put in place. When I started my career, I did not receive much organizational support to design landscapes with communities. I foresee a core role of Landscape for Humanity as helping to fill this gap by supporting landscape designers with resources, research, and a network of support for their more social and environmental justice driven ideas.
How do you feel about winning the Simone Awards?
I'm really excited! This award could not have come at a more perfect time. Especially with all the changes in the world, it's just great to have a foundation to help us build this non-profit and move forward. I believe that this work is more needed now than ever, and these funds will definitely allow important projects to flourish.
How will the Simone Awards contribute to the cause?
One thing we are really in a place to develop now is getting the non-profit aspect going, so that we can actively push the projects on the ground and work with the communities themselves. This award will help fund and develop the non-profit side, which is what I will be focusing on. We will be able to take time to look at where we are right now, consider all the recent changes in the world, build new partnerships, and develop our vision. We have the capacity to help and develop future on-the-ground projects. Something we discussed recently is that with Covid-19, we have the knowledge and the resources to create more sanitation-related projects. We were discussing, for instance, how to make public handwashing stations while creating better public spaces. This grant will help us fund opportunities like this.